How to do a Bikini wax at home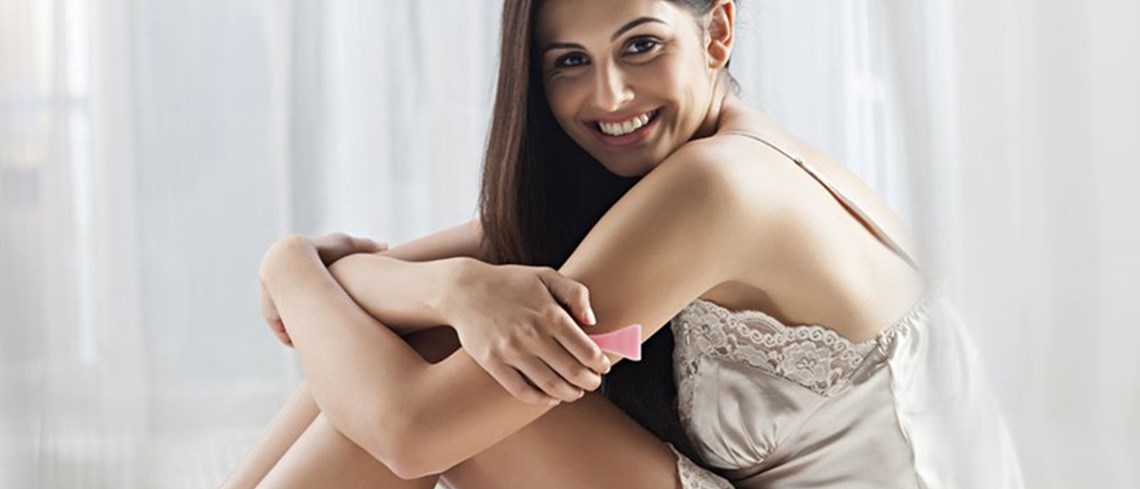 How to do Bikini wax at home!
As a woman, you can understand the embarrassment of being seen with an untrimmed bikini line. Thanks to Veet, you can always look and feel your best with Veet's long-lasting hair removal creams that help you keep your bikini areas hair-free for up to four weeks.
To know how Veet can help you go hair-free, you first need to understand what kinds of waxing can be done with Veet. There are different types of waxing for the bikini area, such as bikini wax and Brazilian wax. But do not confuse the two, as a Brazilian wax is different from a bikini wax. You should know what is a Brazilian wax and bikini wax before you proceed ahead.
What is a bikini wax?
A bikini wax deals with the removal of unwanted pubic hair from the bikini line. The treatment focuses on removing hair from the visible areas of the skin in a swimsuit.
What is a Brazilian wax? 
A Brazilian was is similar to a bikini wax, but goes all the way when it comes to hair removal. A Brazilian wax removes hair from the front and back, leaving only a thin strip of line in the front.
When it comes to a Brazilian wax, we recommend that you get it done from a professional expert. However, a bikini wax can be easily done at home, provided you exercise caution and use professional-quality products for your skin. With Veet hair removal creams and wax strips, you can stop worrying about any peeking hairs on your bikini line when you're out walking on the beach or going for a swim in a pool.
Read on, to know the tips and guidelines for getting a bikini wax done at home.
Veet Hair Removal Cream 
If you want to experience a quick and painless way to get a smooth bikini line, try Veet BodyCurv Hair Removal Cream. The cream goes straight towards the roots, for both long and short hair. It is specifically designed to track the contours of the skin so that you stay hairless for up to twice as long, and with less fuss, when compared to shaving. Just make sure that you keep the cream away from your intimate areas and never leave it on longer than suggested.
Veet Bikini Wax Strips
Choose Veet Bikini Wax Strips for a quick bikini line hair removal at home. Enjoy a hair-free bikini area for as long as four weeks, by using Veet Wax Strips.
Note: If you are using Wax Strips, you can cut them into customised sizes for more delicate areas to simplify the process.
Getting rid of hair from your bikini area was never this easy. However, for getting the best results, you need to keep in mind some of these handy tips:
• Before applying, carry out a patch test on a small portion of the skin that you wish to wax. Follow all the guidelines on the leaflet, and if you don't see any adverse reaction within 24 hours, you can go ahead and use the product
• You can apply Veet hair removal creams around your bikini line, but make sure that the cream does not come in contact with your intimate areas. If the product comes too close to your genitals, it may cause adverse reactions
• Each Veet product has a different development time for hair removal. Creams designed for normal and dry skin takes at least 3 to 6 minutes to work, while the cream made for sensitive skin takes about 5 to 10 minutes. Make sure you are following the instructions mentioned on the pack, which will tell you about the respective development time. Keeping this in mind, you can easily go ahead with a bikini wax at home
• Ingrown hair can be a real pain around the bikini area. Exfoliate 24 hours before you apply Veet and wear cotton underwear and loose clothing post-waxing to prevent ingrown hair from developing
• To maintain beautiful, smooth skin and keep irritation at bay, avoid scented products (like moisturisers), swimming, sunbathing, or tanning beds for at least 24 hours after your bikini line hair removal